Hi! I'm Nadhirah. Just over a month ago I was your average university student; I hung out with friends, dragged myself to 8am lectures, and watched Netflix instead of doing assignments until the deadline became too close.
I'm still the average university student, but while juggling with all that, I'm now also running the online start-up Kaki Lima Socks, that I co-founded. Since we started taking orders two weeks ago, we've sold over 100 pair of socks, all just from Instagram.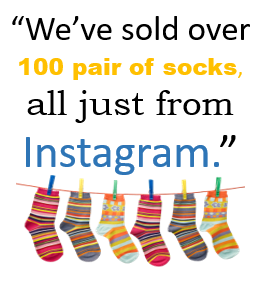 If you've ever wanted to start an online business, buckle-up! Today I'll be sharing some helpful tips that I learned from my experience in starting, co-owning and running an online business as a full-time university student. Hopefully this will inspire you to delve into the world of e-commerce, or help you kick-start that business idea you've had in your head for a while.
Building Your Brand: Set Yourself Apart!
So, you want to start a business online. It can be about anything in the world, as long as it fulfils a need in the market while also playing to your strengths. It could be service-based, such as a graphic design service business, or product-based, like selling homemade lasagna. Once you've decided on your core business, one of the first things you should ask yourself is, what makes you special? What sets you apart from similar shops in the market? This is where your business branding comes in.
For our case, the local Instagram scene already has accounts selling patterned socks, so we needed to find a way to make Kaki Lima Socks stand out. It was important to us to establish a brand with Kaki Lima Socks, and we did this by considering all aspects; the brand name, the quality of our products, the concept art in the marketing, and the packaging of our products.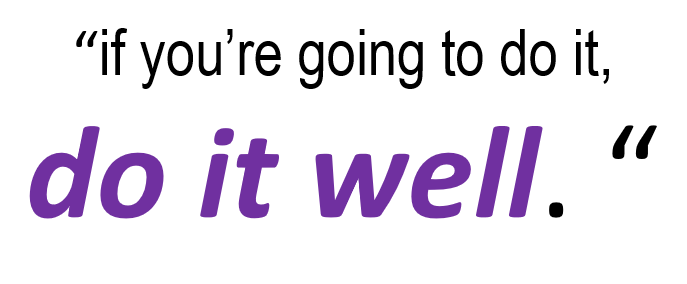 This is key as it creates an identity of our business, hopefully setting us apart from similar businesses in the market. Another tip to go with this, if you're going to do it, do it well. When you do something well, it really shows, and the cohesion and identity of your brand will shine through.
A lot of thought and effort goes into our Kaki Lima Socks branding. For every series release, we work around a theme, and this translates into the photoshoots, the promotional posters, and the actual post itself. Basically, for every socks series we launch, we want there to be a storyline. This can be a huge customer attraction criteria, so be creative, and think of ways to elevate your business branding.
Here's a fun photoshoot we did for our Tapau Line, which we named because in this line, all the socks are food related!
Socks featured: Sunny Side-Up and Shoyu.
Here are a couple examples of our Instagram post designs, with the concept art depending on the design of the socks in the series. The Harajuku Series is inspired by the fashion street of Harajuku in Tokyo, and the Arté Series is a celebration of famous paintings: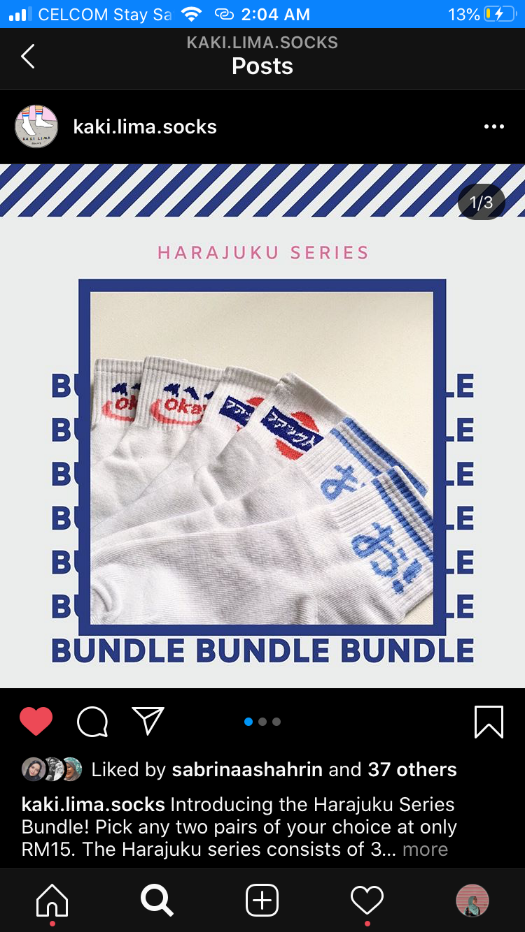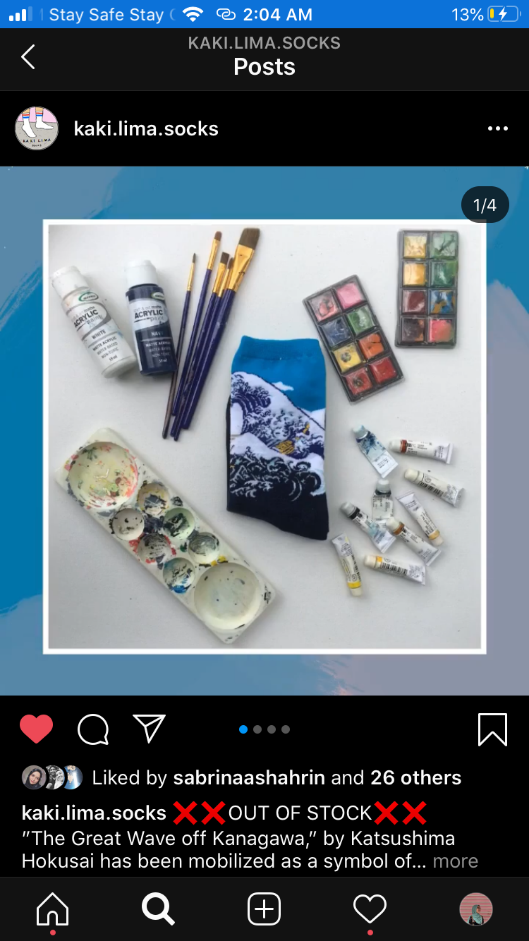 Socks featured: the Harajuku Series and Great Wave from the Arté Series.
Finally, here are some of our promotional posters for our Instagram Stories, which we design and post to hype up a series release: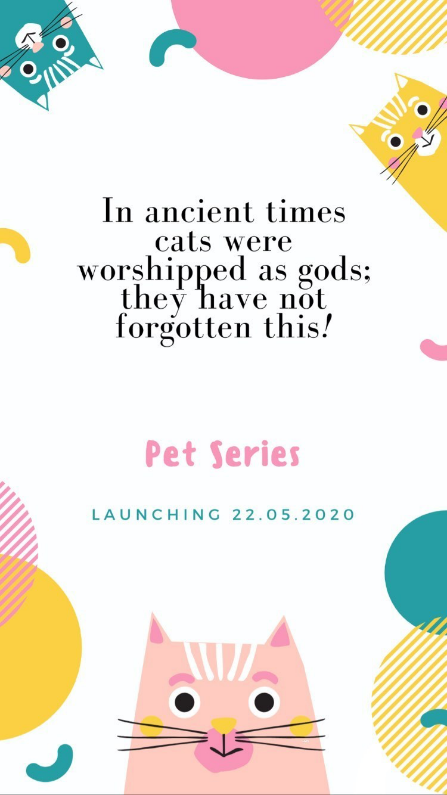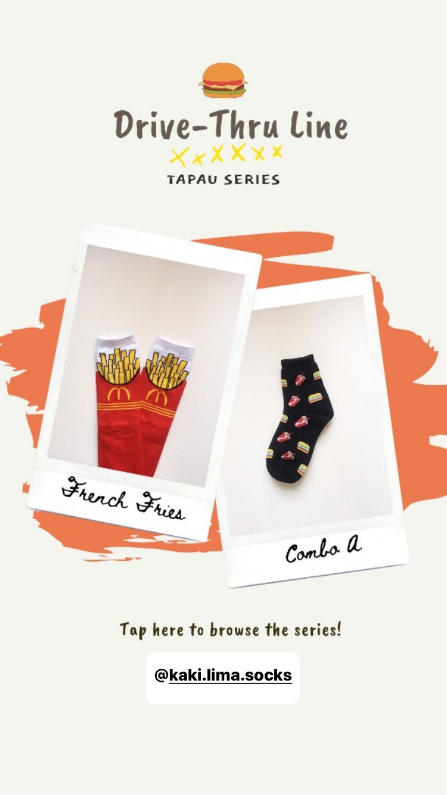 So, that's our take on creating the Kaki Lima Socks brand. Besides getting creative and building your brand, here are some other quick tips you can use in starting your online business:
Quick Tips:
Team Up!
One major take-away that I learnt throughout this process is that things are so much easier when you're not alone. Unless your business is something you can truly manage alone, it helps tremendously to have a partner or a team, where the workload of running the business is shared. My partner and I also keep each other motivated and on track. Decision making becomes much easier too, and it also helps you have a wider perspective of things. Of course, you have to choose your partner or team wisely, i.e. people who you truly get along with, because the pressure of running a business can truly test someone's character, even your own.
The Internet Is Your Best Friend
The best part about having a business online is that you can use the internet to your full advantage! There are so many platforms nowadays that you could use for your online business, such as freelance sites like Fiverr and Upwork; social media platforms like Facebook Marketplace and Instagram; online marketplaces like Etsy and Lazada; or you could even build your own e-commerce website, using WooCommerce or Shopify. Find a platform that works for you and your business, or better yet, be on multiple platforms! The internet can also help you reach a wide audience, from literally anywhere in the world. You can use social media marketing features such as Instagram Ads and Facebook Ads, where the ads will target your specific market demographic. Use the internet to connect to not just audiences, but also suppliers from around the world.
Organization is Key
Something that people tend to overlook when starting out a business is to the organization aspect. Whether that be files and spreadsheets on your computer, or physical receipts and stock, do not slack off in organizing them properly. When you have them organized, it makes your business run so much smoother by helping you stay on top of your orders, stocks and accounts. Messy record keeping can lead to errors in your stock or money, affecting your business.
Aaand that's all from me! If you've been wanting to start an online business, I hope you found my humble tips helpful in some way. And hey if you have time, do stop by the Kaki Lima Socks Instagram page, @kaki.lima.socks where you can browse our full fun socks catalogue!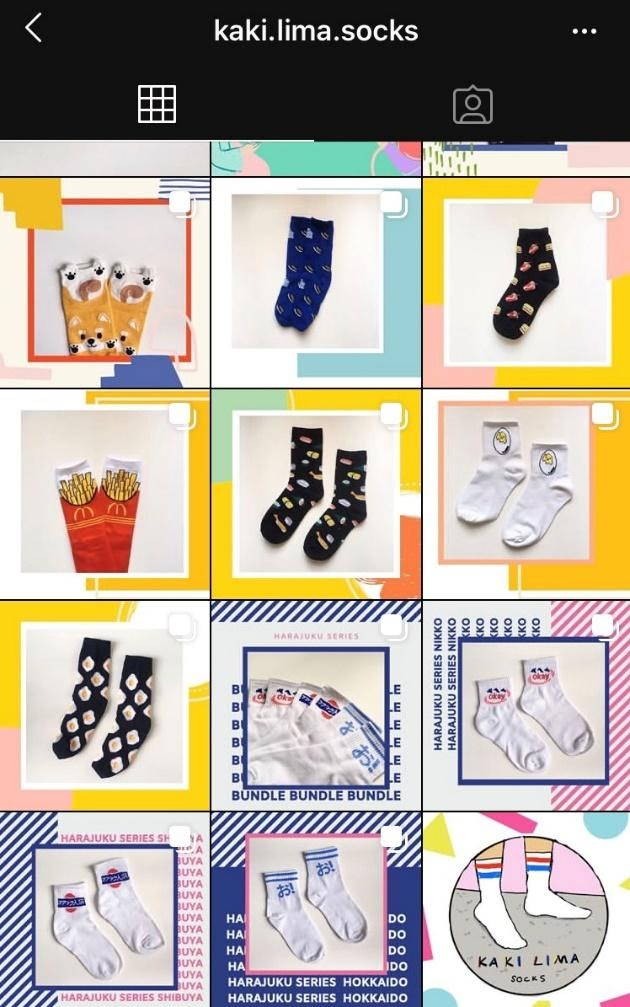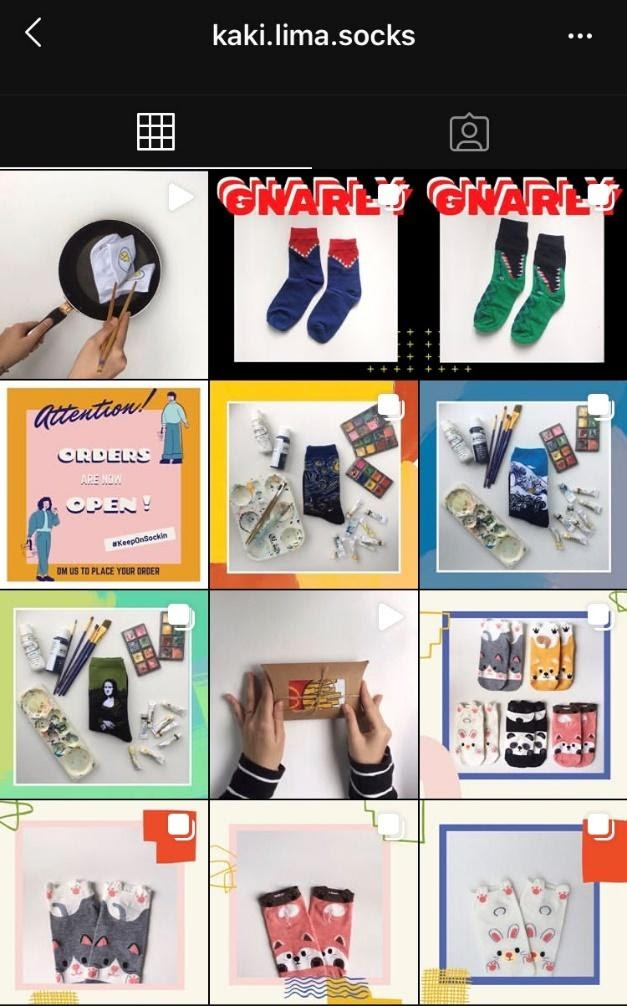 Nadhirah Nazri
Co-founder of Kaki Lima Socks - A 22 year old, mechanical engineering student in University of Malaya (UM). Seeing her friend starting his own business inspired her last year. However, she did not proceed with starting one, until a friend proposed the idea of Kaki Lima Socks.